The Vacation Station, Charleston, SC
The Vacation Station LLC - Great Value

People Love the Vacation Station Charleston SC
The Vacation Station, Charleston, SC serves its customers up tasty value. Their trusty travel agents have your vacation in mind.
For the most part, if you want to take a memorable vacation and get the most for your hard-earned cash, you have two options: You can sacrifice price in the name of convenience by seeking the services of a traditional travel agent, or you can spend countless hours staring at your computer screen all hours of the day and night, anxiously waiting for airlines and cruise companies to temporarily drop their prices.
If you choose to hire a travel agent, you run the risk of paying more than you really should for an exhilarating cruise in Hawaii or a relaxing week at a beautiful beach on the Carolina coast. However, if you decide to fly solo, you might not even notice as you sail right past some of the best deals available in the sometimes-confusing world of travel. Even experienced surfers must eventually face the responsibilities of their day job and occasionally seek the solace of sleep.
There is an alternative, however, that not only eliminates wasteful spending but also does away with the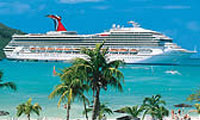 need to visit Web site after Web site, desperately searching for that perfect deal - the one that fits your schedule, fulfills your dreams and falls within the guidelines of your budget. The Vacation Station, a mainstay in downtown Charleston since 1992, bridges the gap between financial considerations and customer service by customizing any type of vacation, anywhere in the world at the lowest price possible - then sweetening the pot by rebating 30 percent of the cost of the vacation back to you.
Planning Travel Is Easy With The Vacation Station
"We can design any type of vacation, and, regardless of how much time it takes, we'll put together the vacation that's right for you," says Project Director Aimee King, who has been with The Vacation Station in Charleston, SC for the past three years. "In addition to our high level of customer service, the low prices and 30-percent rebate can save you thousands of dollars over the course of your lifetime." Randy Gardner, CEO of The Vacation Station Charleston, SC agrees.
Cost, though certainly an important factor, is not the only reason to choose Charleston's The Vacation Station. The company works only with three-, four- and five-star properties and offers a wide range of vacation options, from cruises to condos to luxury resorts to tours.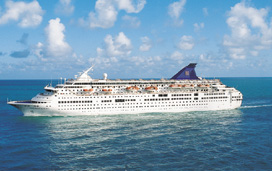 The Vacation Station does business with most of the world's top cruise lines, offering vacation possibilities that will take you to places spanning virtually the entire globe: Alaska, New England, Italy, Africa, India, the Black Sea, the Red Sea, the North Sea, Hawaii, the Bahamas, the Caribbean, the Mediterranean, South America and even Antarctica, and every place in between.
If you're pressed for time, cruises can be short, such as the one-day journey along the Pacific Coast of the United States and Canada. If you have nothing else to do for a month or so, however, and you want to see places you might have never seen before and might never see again, you can book passage on the 34-day Grand Asia Voyage, which will take you from Seattle to Petropavlovsk, Sendai, Yokohama, Shimizu, Kobe, Xingang, Shanghai, Hong Kong, Bangkok, Singapore and other places on the other side of the world. The cost of these trips depends greatly on the client's budget.
"We can get you on any cruise line, in any type of cabin and in any price range," King says. "With most travel agents, you'll have to pay for their markups and commissions. And if you try to do it yourself on the Internet, you might be rerouted to India or someplace like that. We provide top-of-the-line customer service, and it doesn't cost you a penny."
Planning An Inexpensive Vacation
Vacation condos - studio and one-, two- and three-bedroom units in most of the world's top resort locations - are also available to Vacation Station members. Destinations range from Charleston and Myrtle Beach to both Florida coasts, the mountains of the Western United States, Central America, Hawaii and Europe, and their average cost is only around $599 per week, according to King.
"Hot Weeks" feature vacations at destinations throughout the United States and abroad. For those who love the beach, options include Brigantine, N.J.; Kaunakakai, Molokai, Hawaii; Cancun, Mexico; Ventnor, New Jersey; Fort Walton Beach, Fla.; Hilton Head Island, S.C.; and Myrtle Beach, S.C. The mountains also are popular, at Teton Creek Resort, Idaho; Heber City, Utah; and Granby, Colo; while other "hot" locations frequented by Vacation Station members include Las Vegas; Stowe, Vt.; Reno, Nev.; and Puerto Plata in the Dominican Republic.

Tours are also popular among Vacation Station members. Possibilities include the Branson Music Holiday; Mackinac Island, featuring the Grand Hotel; Antarctica; Italian Lakes and Greek Islands, featuring a seven-night Eastern Mediterranean Cruise; the Canadian Rockies by rail; the Wonders of Iceland; and Europe's Christmas markets, featuring Austria, Germany, France and Switzerland.
King points out that even when the national economy is sluggish, Caribbean cruises and vacations at beaches all along the East Coast remain popular among the company's clients.
"A lot of people are planning family trips right now because the kids will be getting out of school soon," she says.
King explains that The Vacation Station Charleston is able to offer deep discounts on quality vacations at locations throughout the world because the company uses the same concept utilized by buying clubs such as Sam's. Since it provides services to thousands of members and many of them vacation often, The Vacation Station is able to purchase large blocks of space at most of the world's top resort destinations. The company prides itself on its success in negotiating the best possible price for its clients.
"We have created our resort search system to allow you to choose the areas you would like to visit, as well as the number of bedrooms and the time of year, be it prime or low-demand season," she says. "You simply submit this information on your vacation voucher, and we will find you the nearest match for your request from our inventory of top destinations."
In other words, The Vacation Station will make it easy for you to plan memorable vacation and save you money, as well.
MORE ON THE VACATION STATION

The Vacation Station SC | Randy Gardner: Read These Testimonials
The Vacation Station Charleston, Robert Moe Testimonial
Another Vacation Station Customer, Thompson Couple
The Vacation Station Charleston, Ricky Hayes Testimonial